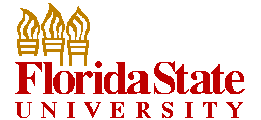 David M. Lind
Associate Professor of Physics

Office Address
Department of Physics and the
Center for Materials Research
and Technology (MARTECH)
Florida State University
405 Keen Building
Tallahassee, FL 32306-4350


Fax
(850) 644-6504
E-mail
lind@magnet.fsu.edu
Phone
(850) 644-1576 office
(850) 644-9716 surface magnetism lab
644-9851 thin-film growth lab

Current Courses Taught:
PHY 2054C: College Physics B with Lab
AST 1002: Planets, Stars and Galaxies
AST 1002L: Introductory Astronomy Laboratory
Professor Lind is the senior author of the Lab manual currently used at Florida State University for the AST 1002L lab class.

Education
1981, B.S. Physics, Brigham Young University, Provo Utah
1984, M.A. Physics, Rice University, Houston Texas
1986, Ph.D. Physics, Rice University, Houston, Texas
-- Rice, the smallest Division 1A university in the nation,
is the defending 2003 college world series (baseball)
champion! Hot dang!
Born
November 29, 1956
San Diego, California
Family
Married, wife Celeste, five children

Research Interests:
Experimentalist and Surface Scientist:

Specialization in Materials Synthesis and Magnetic Characterization:

Molecular Beam Epitaxy -- "engineer" artificial phases of materials, especially highly ordered thin films and superlattices of metal oxides.

Surface and Thin-Film Magnetism -- uses spin-resolved electron, neutron, and x-ray diffraction- based probes to study structural ordering and magnetic coupling at surfaces, in thin-films, and in layered structures.

Current emphasis is on the study of exchange-biasing and half-metallic ferromagnetism in oxidic single- crystalline multilayers such as Fe3O4/NiO and CrO2.


Interesting Web Sites (mostly Astronomy):

Sky&Telescope Online
,


Astronomy Magazine Online

,


Jet Propulsion Laboratory

, home of NASA's

study of the Solar System


U.S Naval Observatory

, home of the official U.S. timekeeping

Digitized Sky Survey ,
HST Pictures
Hubble Greatest Hits Gallary
Hubble Heritage
Best of the Hubble Space Telescope

Stardate


Students for the Exploration and Development of Space (SEDS)
The Nine Planets Solar System Tour
The Web Nebula (Images)
NGC 2000 Browser
Messier Deep Sky Catalog Images

Astronomy Cafe


What is the weather tonight for veiwing the stars? (radar image)


Near Earth Asteroids

Scientific and Astronomical Misconceptions in the Media and Movies

Sorry, but my Website seems to be continually under construction.
I should be adding more shortly.

This page last updated on Jan 17, 2002 by David M. Lind
© 2002 Department of Physics, Florida State University. All rights reserved.